​​

81 Riverside Ave.
​Norwalk, CT 06850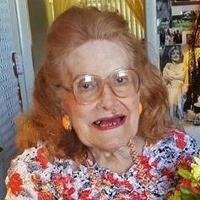 Obituary of Evelyn May Bowne
Evelyn May Arnold, who was born in Norwalk, CT to Ella and Wallace Arnold, passed away peacefully in the Hospice Care Unit at Palm Beach Gardens Hospital in Florida early on the evening of July 10th following six months of illness and hospitalizations. Her surviving son, Eugene A. Romano Jr., was at her side. Her granddaughter, Michelle Atwood, and great grandson, Michael Atwood, from Arlington, Texas, were also able to visit at her bedside earlier in the week. She was preceded in death by her son, William Ellery Bowne III, who died in a single vehicle accident in December 2001 in Norwalk; and her great-grandson, Derek Romano Jones, who died of illness in January 2016 in Dallas. She was survived by her grandson Dale Romano, and great grandson, Xander Romano. Although at 94 she had out lived all the relatives of her generation, she had numerous relatives of the Bird family of Florida and Indiana, Hammond and Deysenroth families in Connecticut, family members of the Romano, Calaway and Bennett families in Indianapolis, and LePre family of Georgia. My mom lived most of her life in Norwalk until she moved to Lantana, Florida, about 30 years ago. She graduated from Norwalk High School and attended a local business college before beginning a career in bookkeeping and accounting for 40 years. In the last couple of years, Mom would often tell people that she was married three times, out lived all her husbands and didn't kill any of them. In fact, my mother met all three of her husbands on Washington St. in South Norwalk … two on the Washington Street Bridge and one in an Upholstery Store at the street level of the apartment building where we lived. She married her first husband, Peter Venezia of Westport, CT, in September 1943. They had only a six-day honeymoon before he left to go overseas and she never saw him again. A staff sergeant in the U.S. Army Air Corps, he was tail gunner on a B-17 bomber that was shot down over Italy. In fact, as I was going through Mom's papers I found the actually telegram from the War Department telling her that he was missing in action. Peter was extremely handsome man who looked like many movie stars of the period, and he was later buried in the military section of Riverside Cemetery. My mother married my father, Eugene A. Romano Sr., of Saugatuck, CT, in January 1947. I was born almost nine months later, but the marriage did not last long. My parents were divorced before I was two years old, and she worked hard to raise me as single Mom. I saw my father periodically, but my Mom made sure that I remained very close to my Italian grandparents and I saw them monthly throughout the years. In fact although I lived in another town about 20 miles away, I saw them more often than my first cousins who lived only two miles away. It was sort of my fault that my Mother met her third husband, William Bowne Jr., of Stamford, CT. I was supposed to walk to school, but I was running late and Mom offered to drive me before she went to work. When we got to her car in the parking area behind the apartment building we were greeted by a flat tire. Bill was taking a smoke break behind the Upholstery Store and offered to change the tire … as I began my walk to school. They were married in January 1959 and my brother, Billy, was born later that year. Her husband Bill was very abusive and ordered out of the house about a year after my brother was born. Again my Mom worked very hard to raise her two sons. After I left to join the Navy in February 1965, Mom and Billy remained in Norwalk until they moved to Lantana, FL, in 1990. She moved to be closer to her father, step mom, and half sister's family. My brother went back and forth to Connecticut almost every year. It was extremely hard for my Mom after my brother's death in December 2001. He had always been there for her throughout the years while I was in the Navy. Mom's medical issues began about 12 years ago when she fell and broke her hip. The hip replacement surgery was very successful and after some time in rehab she returned to her home as good as new. Unfortunately, about 5 years later she developed rheumatoid arthritis in her back and was not able to live by herself any longer. In April 2014 she entered Cresthaven Assisted Living Facility. A few years later she developed congestive heart disease and had a stent placed in her heart. That definitely made an improvement in her life, but a defective heart valve a few years later continued to cause medical issues. In mid-January of this year, 2020, she was hospitalized for excessive fluid that caused heart and breathing problems. Because of her age and medical condition it was not possible to repair the valve. Once stabilized, she was transferred to a rehab center where she remained for 100 days. During this period the Governor of Florida imposed a visit restriction on all senior medical facilities because of the COVID 19 virus. She worked very hard to regain enough skills to return to Cresthaven in late April, but because of the virus had to go into quarantine for a week before she could return to her room. This quarantine was very emotional for Mom and reduced her skills dramatically. When she returned to her room she was not able to transfer to her wheelchair without assistance. In May she returned to the hospital for low blood pressure and when she returned to Cresthaven on hospice care she again faced quarantine. She started to go downhill rapidly. After a week she was hospitalized a final time and then transferred to the Hospice Care Unit where she received excellent care until her death. Mom lived her life to "The Nines", as the cliché goes. She always dressed that way too and regularly received numerous comments on her colorful outfits. She went out that way in style and gave me specific instructions on what she wanted to wear to be buried. She will be laid to rest next to her mother Ella Arnold at Riverside Cemetery in Norwalk. A graveside service will be held at 1 p.m. on Friday, July 17. Personal note from her son Gene: Throughout the years Mom taught my brother and I two valuable lessons. First, no one owed us ANYTHING and we were responsible to take care of ourselves when we grew up. And secondly, if we didn't have enough money to pay our bills we had two choices … reduce our expenses if we could or go out and make MORE money. I think those lessons served us both well as we grew up. I joined the U.S. Navy in February 1965 and retired 27 years later as a Senior Chief Journalist. This career was followed by almost 20 years with FEMA … the disaster agency. My brother had two interesting careers and throughout the years an alternated back n' forth depending on whether he was in Connecticut or Florida. Billy attended cooking school following high school and was a chef. When he was in Florida he worked as chef at Riggins Restaurant, a well-known seafood eatery in Lantana. When he was in Connecticut, usually six months of the year, his specialty was about 180 degrees opposite. He was a car restoration specialist on high end vehicles such as BMWs or Mercedes. Because there was 12 years difference between us, I wasn't around much while Billy was growing up. In fact, in the two months shortly before his death, I actually saw my brother four times while I was assigned at the Javits Center for FEMA following the 911 bombing of the Twin Towers. I visited him three times in Norwalk and once he came to see me at the Javits Center in NYC. In early December 2001, I immediately returned to Norwalk after my brother was critically injured in a single vehicle accident and died six days later on December 6. I returned his ashes to Florida where they were spread in the Inter Coastal Waterway where several other family members had been spread throughout the years.
A Memorial Tree was planted for Evelyn
We are deeply sorry for your loss ~ the staff at Riverside Cemetery


Share Your Memory of
Evelyn
81 Riverside Ave.
Norwalk, CT 06850
Looking for something you can't find? We make it easy to get the answers you need. Please feel free to CONTACT our professional staff for any questions.