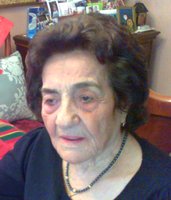 Eleni Christoforides
Eleni Marmanidou Christoforides died on the 29th of November, 2019, at home, with her children, Nicholas and Anastasia, by her side her side. She was predeceased by her loving husband, Christ Christoforides.
Eleni Christoforides was born to Elisavet (Papadopoulou) and Nikolaos Marmanides in Ishun, Simferopol, Crimea. Her family was originally from Chamouri of Pontos. She lost her mother at age three and her father at five. As a result, the six children were brought up by their father's cousin, Father Kyriakos Marmanides (Papa Kyriakos) in the Spelia Greece. Her legal birthday was 15 October 1926.
In 1962, she came to Norwalk, with her husband and established a home by working hard, despite all the challenges of being an immigrant. But, she overcame so much as a refugee child , she knew that love and family were the foundation for success… And they made it!
As our mother was the last surviving sibling, we would like to pay tribute to her and her siblings- Soteria, Kyriake, Ioannis, Chrysana and Konstantinos. As we close this last chapter, we want to honor these remarkable people, who with love, determination and family unity made it. We always envied their love for each other and their solidarity. We hope that the future generations will inherit this blessing of family. We would also like to honor Father Kyriakos E. Marmanides. A man who lost his family, but, had enough love to take in and bring up six orphans. He gave them love and hope. Our mother always said that they believed there were good people in the world because of this selfless and loving man. Mom is also survived by very loving nieces and nephews, cousins and many loving relatives of many generations.
The viewing and Trisagion will be on Monday, 2 December, from 5-8pm, at St. George Greek Orthodox Church. The funeral service will take place at 10am on Tuesday, 3 December, at St. George. Greek Orthodox Church, 238 West Rocks Road, Norwalk, Connecticut. Burial will follow in Riverside Cemetery, Norwalk, Connecticut.
We ask our family and friends to donate to St. Basil Academy, in Garrison, NY, as a final act of love and kindness to our mother and her siblings and a tribute to a man who was about love and hope. We want children to always be loved and given hope. We appreciate and thank you for your generosity.