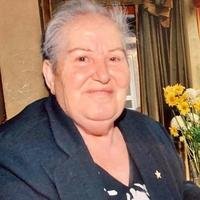 Anatoli Kritharakis
Anatoli Kritharakis, age 81, of Norwalk, CT passed away peacefully on September 13, 2019. Anatoli was born on April 21, 1938 in Komnina, Greece, the daughter of the late Anastasios and Eleni Lafazanides Saltourides. She moved to America in 1964 with her mother and siblings for a better life.
She was a dedicated and loving single mother that acted as both mother and father to her three children. Her wisdom, kindness and generosity knew no bounds. She offered her love, support and prayers openly and freely to those around her.
She was devoted to and enjoyed being an active member of the St. George Greek Orthodox Church, caring and cooking for others, gardening, knitting, baking, going to the beach and spending time with her family and friends. She was a strong figure to the lives of her children, siblings, family and friends and her memory will be eternal.
Anatoli is survived by her three children: Dina Chatzikonstantinou (George), Ioanna Kritharakis, and Angelo Kritharakis (Tiffany); seven grandchildren: Alexandra and Anatoli Chatzikonstantinou, George, Efthimia, and Anatoli Kutrubis, Niko and Noah Kritharakis; 2 brothers: Ioannis and Lazaros; 3 sisters: Parthena, Despina and Irene, and many nieces and nephews. In addition to her parents, Anatoli was predeceased in life by two brothers: Konstantinos and Christos; and two sisters: Sophia and Paraskevi.
The family will receive relatives and friends on Sunday, September 15, 2019 from 5:00 p.m. until 7:00 p.m. at Saint George Greek Orthodox Church, 238 West Rocks Road, Norwalk with a Trisagion Service to be held at 6:00 pm. Funeral Services will be held on Monday, September 16, 2019 at 10:00 a.m. at St. George Greek Orthodox Church, Norwalk. Burial will follow at Riverside Cemetery, 81 Riverside Avenue, Norwalk. Arrangements have been entrusted to the Hoyt-Cognetta/Raymond Funeral Home, 5 East Wall Street, In Historic Norwalk, CT.