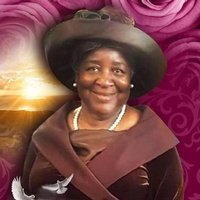 Virginia Perry
On Thursday, March 28, 2019, Virginia Ann Perry, departed this earth and peacefully went on to glory following a period of declining strength and health. "Gammie", the affectionate name she was referred to by most, was a woman of substance. Virginia was born on March 30, 1937 in Bridgeport, Connecticut to the late Dorothy Sinclair and James N. Patterson.
Her educational foundation originated in Bridgeport school system. She continued her education at Norwalk Community College, from where she graduated with a degree in Early Childhood Education. In her earlier years, Virginia worked at Beiersdorf and for the State of Connecticut Department of Disability Services. After a few dedicated years, Virginia moved on to work at Bread and Roses – St. Luke Life Works. In her later years, Virginia worked for Norwalk Public School's ACHIEVE Afterschool Program, while volunteering at Norwalk Hospital. Virginia was a faithful and active member of Macedonia Church for over thirty years. She took great joy in her stewardship for the Lord. During this time, she served as Vice-President of the Usher Board and as a member of the Mothers' Board. She was also involved in the AIDS Outreach Ministry. The church was a focus of her life and in the bosom of the church, she served faithfully.

Virginia demonstrated a beautiful Christian life. She believed whole-heartedly in the power of prayer, with unwavering faith and trusted God for all things. Always devoted, putting her children first, she was the center of her family, constantly giving and nurturing. Her words to
her children were supportive, encouraging and correcting, inspiring them to be their best selves and instilling in them Christian values that would endure the test of time. The solid family foundation she provided is evident by the legacy she left behind.

Virginia "Gammie" leaves to cherish her memory, son, Elton D. Perry Sr.; daughters, Maria Patterson and Theresa Perry; grandchildren raised by her, Alisha Cotte, Walter Perry, Shalanda Patterson, Jamie Patterson, Teresa Perry, and Tyrone Patterson; brother, Ronald (Shirley) Patterson, as well as fourteen additional grandchildren, twenty-two great grandchildren, two great-great grandchildren; several adopted children, nieces, nephews and a host of other relatives and friends.

She was predeceased by her sons, Anthony Edward Patterson Sr. and Richard Keith Perry; grandson, Michael Patterson; daughters-in-law, Cynthia Hudson-Perry and Cheryl Perry; siblings, James Patterson, Jean Johnson and Dorothy Booker. Today, we rejoice in the knowledge that Virginia has passed the barrier of time as we know it and is forever at home with the Savior she faithfully served. She will be forever missed but never forgotten. She shall always remain in our hearts.